It's impossible to turn on the TV or flip through newspapers without seeing information about the economy and the stock market. Companies and event planning associations are realizing an understanding of financial basics is key for success in a volatile market. Here are two upbeat approaches to help employees or conference participants learn about finance and the stock market.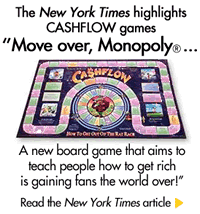 Called the adult version of Monopoly, this board game invented by Rich Dad, Poor Dad author, Robert Kiyosaki, is so enjoyable that groups around the world meet to play it every week.
Players begin with a job, a salary and, yes, debts. As they move around the board, they have an opportunities to purchase stocks, invest in real estate and buy businesses. The goal is to "get out of the rat race" by making wise investment decisions in response to market conditions.
With a trained facilitator to "set the stage" and debrief the game, The Cash Flow Game is perfect for large and small team events and conferences. Six players and a banker/coach can play on one board.
Using a simulation of a child running a lemonade stand, The Accounting Game is a painless way to help participants at conferences and association events master financial statement basics. It incorporates music, skits and costumed facilitators to transform what could be a boring topic into an engaging corporate event with a purpose.